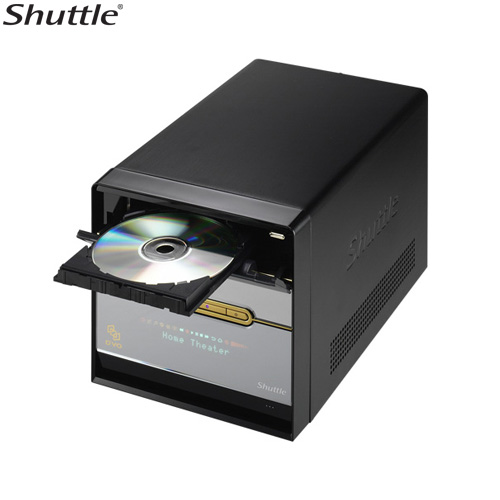 I was shopping around IOI Mall today when I came across a computer shop selling the Shuttle SG33G5M (D'VO) small form factor bare-bones PC. Shuttle has always been a market leader in the realm of custom designed PCs. The D'VO is their foray into the realm of home entertainment PCs.
At first glance, there are several disadvantages to using the system: (1) It comes with an Intel G33 chip-set with a GMA 3100 graphics processor, which is just varely capable of playing 1080p high-definition video. (2) It does not come with anything other than the casing, power supply and motherboard for RM1380 (£260).
However, its disadvantages are also an advantage. It is fully customisable and expandable. The procesor, RAM, drives are all up to the user. There is also an extra PCI and PCI/E slot in the device. So, it is possible to upgrade the machine as we move from playing DVDs to Blue-Ray films.
The PCI/E slot can be used to upgrade the graphics capabilities with an NVIDIA/ATI card. The PCI slot can be used to expand the capabilities with a TV tuner and video capture card. The processor and RAM can be upgraded when needed. The optical drive can be upgraded from a DVD drive to a Blue-Ray one in the future.
In addition, it also comes with a superb water cooling system with a magnetically levitated fan. This makes the machine extremely quiet. It also comes with a MCE2 remote control and a front LCD panel like some HTS systems.
The only catch is the price. However, I did not try to bargain for the price. It may be possible to drive the price down by quite a bit. It is possible to buy one under $300 (RM1100) on-line. It would make a fairly compelling product at that price.
Its main advantage against the ASUS PX24 is the expandability. It's main disadvantage is the looks, size and weight of the machine.
PS: With this machine, it would be possible to kill two birds with one stone. It can also double as a NAS machine.